Featured Item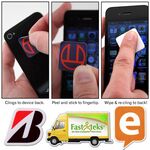 Wipe-it Now Screen Cleaner - Custom Shap...
Wipe-It Now screen cleaner...always available for a quick wipe! Safely and completely cleans and polishes the view screens of cell phones, MP3 and DVD players, GPS and other electronics. Adhesive, mic...
$1.08 - $3.18
Welcome!
Welcome to Footprint Promotional Advertising! We have exactly what you need to Get Your Business Noticed! Choose from thousands of customizable products, we can create a custom design for you or you can use a design of your own! We offer more than 800,000 promotional products so the possibilities are ENDLESS! Give us a call and we'll find exactly what you are looking for! Get Your Business Noticed with Footprint Promotional Advertising!