Get Your Business Noticed!
Welcome to Footprint Promotional Advertising where we believe that promotional products help build relationships with clients. We believe that items shouldn't just have your logo, but should communicate both your brand and your mission. We believe that the quality of your product makes a promise to your customers about the quality of your company.
Browse thousands of customizable items and promotional products from the comfort of your office or home. When you're ready to add your own branding and logo or if you need direction on where to start, give us a call. We make sure you get the best price and quality, delivered within your timeframe. We will deliver your finished product delivered anywhere in the United States. With the help of our design team, you can visualize exactly what your finished product will look like.
Featured Item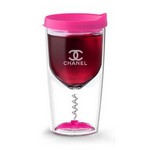 Vino Opener Cup
The Vino Opener has all the great benefits that you know and love from the Vino2Go. Now with an added 'Twist'. A handy corkscrew that easily pops in and out of the bottom of your vino. A truly versati...

Signature Showrooms