Featured Item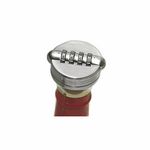 Solid Stainless Steel Combo Liquor/Wine ...
Perfect for securing premium wines and spirits. Locks up a bottle so that only the combination holder can reopen it. Instructions for using and changing the combo are included. 2 3/4" H x 2" Diameter
$14.34 - $17.58
Get Your Business Noticed!
Welcome to Footprint Promotional Advertising!
Choose from thousands of customizable items and promotional products!
We have promotional bags, corporate gifts, promotional pens, mugs, men's apparel, women's and kids' apparel, indoor and outdoor banners, promotional t-shirts, business cards, flyers, direct mail and more!
Give us a call and we'll find exactly what you need to get your business noticed!
Footprint Promotional Advertising will personally deliver to Northeastern Minnesota and Northwestern Wisconsin, including Duluth, Superior, Cloquet, Proctor, Virginia, Hibbing and Grand Rapids.
We can ship to every state in the United States. Order online or give us a call, we look forward to hearing from you!